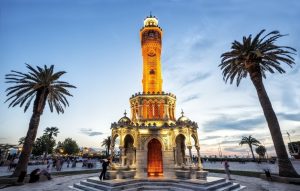 General information about İzmir
İzmir is a metropolis in western Turkey and the third largest city in Turkey after Istanbul and Ankara. In ancient times the city was called "Smyrna". Today Izmir is a developed, modern and commercial center. with a large bay surrounded by some mountains. The city has the same facilities as Istanbul, which means there are many modern shopping centers and wide boulevards. There are many historic churches and mosques. The city has a relaxed vibe like the Mediterranean part from Europe. İzmir has a strong economic position due to its location and huge industrial port. The industrial port is an important feature of the whole city and has an advantageous location that is perfect for various import and export activities. İzmir is a very socially dynamic city with a variety of different cultures. The city has hosted numerous civilizations and cultures in the past. Due to its perfect location, the city was one of the most important Mediterranean cities and hosted the Mediterranean Games in 1971. The city has recorded around 4,000 years of urban history.
Real Estate and Property in İzmir 
İzmir has several city centers and a wide range of upscale and lower-town areas. The most luxurious apartments are located in the city center called "Alsancak". İzmir's financial district and most of the offices are located in "Bayraklı". Buy property in İzmir and apartments range from $200,000 to $350,000 in the most luxurious area of ​​Alsancak. However, there are many other beautiful neighborhoods and areas where you can buy a cheap apartment for as little as $100,000. In general, most of the properties being built in Izmir are apartments. Villas are more common in other nearby areas, such as in "Güzelbahçe" or Çeşme.
Luxury Real Estate for sale in İzmir
İzmir and Çeşme offer a wide range of luxury properties. Many quality luxury apartments and penthouses can be found in the historic city center of İzmir. In the "Mavisehir" district there are also some high-rise buildings with ultra-modern luxury apartments. In general, finding luxury property in İzmir is quite easy and much cheaper compared to Istanbul. Since Çeşme has a high-quality image, luxury real estate is available everywhere and the property buyer has different districts and layouts to choose from.
Aegean Locations
Aegean Locations was founded just over 4 years ago. A native of the Netherlands, the founder realized that there was no professional real estate agency that could help foreigners to buy an apartment or any other property in Izmir. At the moment Aegean Locations has 2 offices in İzmir and Çeşme. With our National Association of Realtors license and other certifications, we already served thousands of clients with the highest integrity.